Florida Extreme Fitness Center "FLEX"
Hours:
Sun: 10 AM - 6 PM
Mon: 5:30 AM - 10 PM
Tue: 5:30 AM - 10 PM
Wed: 5:30 AM - 10 PM
Thu: 5:30 AM - 10 PM
Fri: 5:30 AM - 10 PM
Sat: 8 AM - 8 PM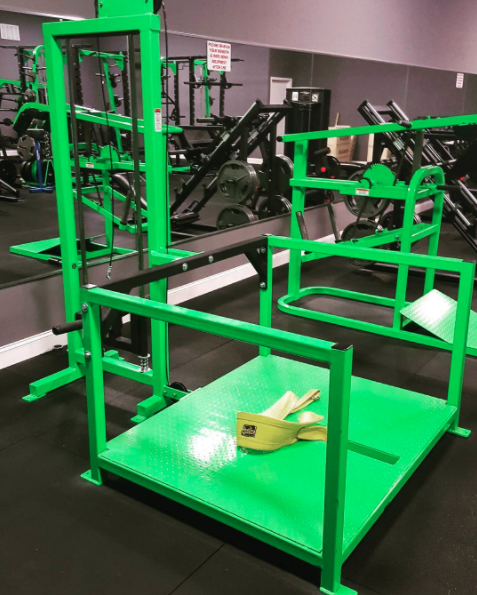 I go to FLEX every time I go back to Jacksonville. Roberto is no-nonsense when it comes to working out. He wants his members to be able to come in, workout to their heart's content, and have every type of machine available to them. This gym features all of the powerlifting essentials, as well as a divers array of isolation machines for bodybuilding work.
My Favorite part of coming to this gym is the atmosphere. The individuals that come in here to workout COME TO WORKOUT. No one is really there to socialize, but to get their work done. You also don't have the creepers staring you down based on what you are wearing or the exercise movements that you are doing. The feel of the gym is very hardcore so it absolutely gives you the motivation to absolutely kill it.
This gym also has the best playlist playing. I never bring my headphones for my training, nor for my cardio, because I know that nothing that I play on Pandora can beat what the house is playing.
Pros:
High variety machines

Used to have a powerlifting room and a standard floor, now both rooms are included with no extra charge

Amazing music playlist

Hardcore envirmoment
Cons:
You need to leave at some point. JK. No but for real, they close at 10

Some of the machines may be too heavy without adding weight and may be intimidating for some
Roberto Nozzolillo, B.A.,CPT – Owner/Director of Training
Roberto has been a certified personal trainer since 2007. He is certified through the American College of Sports Medicine (ACSM). The ACSM is considered the gold standard when it comes to personal training certifications. Something that differentiates Roberto from other trainers is that he struggled with weight loss and athleticism. Growing up he always had an issue finding proper training at an affordable price. Whether it was training for fat loss or athlete training, nothing was ever beneficial nor was it affordable. It has been Roberto's mission ever since he was a teenager to change that, and that is why Roberto created Florida Extreme Fitness Center.
Equipment List
adfasafasdfasdfasfasfasadfasafasdfasdfasfasfasadfasafasdfasdfasfasfasadfasafasdfasdfasfasfasadfasafasdfasdfasfasfasadfasafasdfasdfasfasfasadfasafasdfasdfasfasfasadfasafasdfasdfasfasfasadfasafasdfasdfasfasfasadfasafasdfasdfasfasfasadfasafasdfasdfasfasfasadfasafasdfasdfasfasfasadfasafasdfasdfasfasfasadfasafasdfasdfasfasfasadfasafasdfasdfasfasfasadfasafasdfasdfasfasfasadfasafasdfasdfasfasfas
adfasafasdfasdfasfasfasadfasafasdfasdfasfasfasadfasafasdfasdfasfasfasadfasafasdfasdfasfasfasadfasafasdfasdfasfasfasadfasafasdfasdfasfasfasadfasafasdfasdfasfasfasadfasafasdfasdfasfasfasadfasafasdfasdfasfasfasadfasafasdfasdfasfasfasadfasafasdfasdfasfasfasadfasafasdfasdfasfasfasadfasafasdfasdfasfasfasadfasafasdfasdfasfasfasadfasafasdfasdfasfasfasadfasafasdfasdfasfasfasadfasafasdfasdfasfasfas
adfasafasdfasdfasfasfasadfasafasdfasdfasfasfasadfasafasdfasdfasfasfasadfasafasdfasdfasfasfasadfasafasdfasdfasfasfasadfasafasdfasdfasfasfasadfasafasdfasdfasfasfasadfasafasdfasdfasfasfasadfasafasdfasdfasfasfasadfasafasdfasdfasfasfasadfasafasdfasdfasfasfasadfasafasdfasdfasfasfasadfasafasdfasdfasfasfasadfasafasdfasdfasfasfasadfasafasdfasdfasfasfasadfasafasdfasdfasfasfasadfasafasdfasdfasfasfas
adfasafasdfasdfasfasfasadfasafasdfasdfasfasfasadfasafasdfasdfasfasfasadfasafasdfasdfasfasfasadfasafasdfasdfasfasfasadfasafasdfasdfasfasfasadfasafasdfasdfasfasfasadfasafasdfasdfasfasfasadfasafasdfasdfasfasfasadfasafasdfasdfasfasfasadfasafasdfasdfasfasfasadfasafasdfasdfasfasfasadfasafasdfasdfasfasfasadfasafasdfasdfasfasfasadfasafasdfasdfasfasfasadfasafasdfasdfasfasfasadfasafasdfasdfasfasfas
adfasafasdfasdfasfasfasadfasafasdfasdfasfasfasadfasafasdfasdfasfasfasadfasafasdfasdfasfasfasadfasafasdfasdfasfasfasadfasafasdfasdfasfasfasadfasafasdfasdfasfasfasadfasafasdfasdfasfasfasadfasafasdfasdfasfasfasadfasafasdfasdfasfasfasadfasafasdfasdfasfasfasadfasafasdfasdfasfasfasadfasafasdfasdfasfasfasadfasafasdfasdfasfasfasadfasafasdfasdfasfasfasadfasafasdfasdfasfasfasadfasafasdfasdfasfasfasadfasafasdfasdfasfasfasadfasafasdfasdfasfasfasadfasafasdfasdfasfasfasadfasafasdfasdfasfasfasadfasafasdfasdfasfasfasadfasafasdfasdfasfasfasadfasafasdfasdfasfasfasadfasafasdfasdfasfasfasadfasafasdfasdfasfasfasadfasafasdfasdfasfasfasadfasafasdfasdfasfasfasadfasafasdfasdfasfasfasadfasafasdfasdfasfasfasadfasafasdfasdfasfasfasadfasafasdfasdfasfasfasadfasafasdfasdfasfasfasadfasafasdfasdfasfasfas